Press release
Sanctions against Houthi military leaders: UK statement
The Minister for the Middle East and North Africa gave statement on sanctions against Houthi military leaders, and the need for them to engage in negotiations. From:Foreign, Commonwealth & Development Officeand The Rt Hon James Cleverly MPPublished11 November 2021Last updated11 November 2021 — See all updates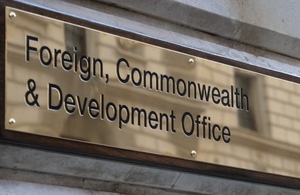 Minister for the Middle East and North Africa, James Cleverly, said:
On 9 November we achieved international agreement to impose sanctions against Houthi military leaders. Muhammad Abd Al-Karim Al-Ghamari and Yusuf Al-Madani are generals who have been sanctioned for leading Houthi offensives throughout Yemen, particularly in Marib, and for orchestrating cross-border attacks against Saudi Arabia. Saleh Mesfer Saleh Al-Shaer used his position to seize the assets of opponents and circumvent the UN arms embargo.

The Houthis, and all other parties to the conflict, need to engage constructively on negotiations. Dialogue is the only way to sustainably end this conflict and alleviate the dire humanitarian crisis.
Link:
Categories: FCDO updates UK Updates Yemen sanctions
eric9to5